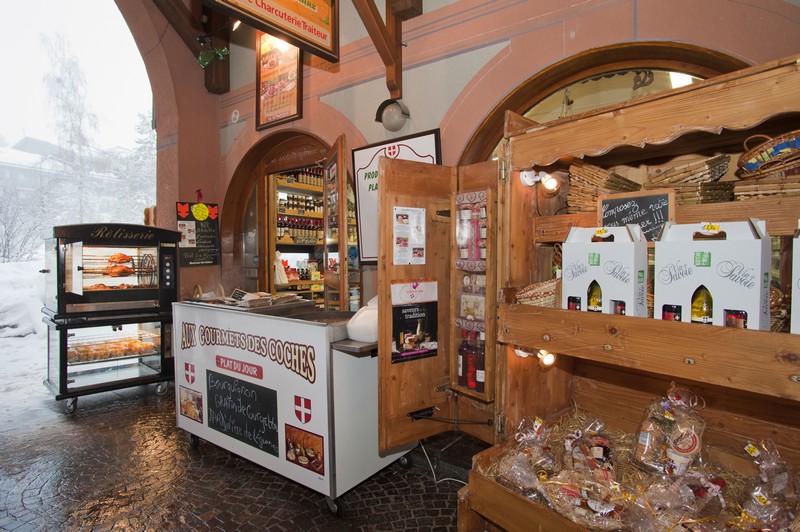 'Aux Gourmets des Coches' is a caterer and take-away of high quality, providing you the opportunity to eat at you apartment or chalet with the taste and ease of a restaurant!
'Aux Gourmets des Coches' is located in the center of Les Coches village. An energetic daughter and her father Christian provide excellent dishes and catering fresh meals every day. Typical Savoyard dishes are available like Croziflette or Tartiflette, but also roast chicken is daily available. For lunch, they prepare sandwiches or croques so you may enjoy a great outdoor picnic in the Les Coches nature.
If you rather fancy Raclette or Cheese Fondue you are also at the correct address. They even offer using the equipment to have a real Savoie Cheese Fondue, at your apartment or chalet!
Aside prepared meals, Gourmets des Coches offers a wide variety of selected local wines and cheese as well as typical Savoie Sausages with nuts, Beaufort cheese or other variations. All from the region and Haute Tarentaise territory!
If you rather fancy sweetness, a wide range of delicious desserts is also available to complete your meal or as a treat after your outdoor ski or hike trip.
'Aux Gourmets des Coches' is an excellent solution if you prefer to dine in your apartment or chalet but want to avoid the burden of cooking and cleaning up the kitchen. Anyway, we strongly advice this "solution" if you stay in Les Coches!
Visit their website: www.gourmetsdescoches.com