Les Coches
Information about Les Coches, its close neighbour Montchavin and activities during winter and summer.
Les Coches – altitude 1450m – and its neighbour Montchavin (1250m) are often mentioned in one streak as the "Montchavin – Les Coches" ski resort.
However since 2016 this will likely change to "Montchavin – La Plagne", to let the region have more profit of the communication benefits of the huge La Plagne ski area. After all, with the formation of the Paradiski domain, La Plagne, Les Coches, Peisey-Vallandry and Les Arcs are bolt together as one of the biggest ski resorts in Europe with over 425 km of ski slopes.
Les Coches History
To know the history of Les Coches, one must first look at Montchavin. The abandoned Montchavin village was resurrected in 1973 by the mayor of Bellentre due to its altitude (1250m) and as a ski station for the Bellentre community, after the succesful creation of the La Plagne ski station back in 1961. Montchavin was linked to La Plagne in 1973 and provided place for 1500 visitors.
In 1977 the architect Michel Bezançon (who also designed the first La Plagne station) crated "Les Coches", a station at 1450m with focus on the typical Savoyard architecture, designed for sustainable development and with a true village feel in mind.
People visiting either Les Coches or Montchavin will highly appreciate the rural character of both villages, the chalets, the compact yet lovable center and total lack of the typical French massive apartment buildings resurrected during the seventies in stations like Les Arcs or La Plagne.
Facilities in Les Coches
Les Coches, peaceful and surrounded by trees and has retained its true "village" atmosphere, but at the same time ensures all accommodation for a pleasant and successful holiday is within reach. It provides restaurants and a good bar, ski school, shops and there is a free shuttle bus between Montchavin and Les Coches so you can enjoy both villages during one stay.
There is a little ice rink for children and a very nice sledge area. If you rather enjoy a nice après ski the White Lines bar definitely is a recommendation. For food you can either choose between the very good local butcher who provider excellent prepared Tarentaise and Savoyard dishes, or you could go to a restaurant. Personally we highly recommend La Poya (traditional Savoyard) and L'Origan (Italian), both at Les Coches.
Les Coches during winter (skiing!)
In full winter season, Les Coches is ideally situated at the north side of the mountains, providing plenty of snow even during sunny days. Being a "Famille Plus" ski resort (which is a French label for stating Les Coches is a family oriented ski station) this means Les Coches provides excellent practice slopes for beginning skiers. With the Plan Bois lift you're straight up the mountain and end up in an excellent practice area for kids as well as nice blue graded slopes for beginners.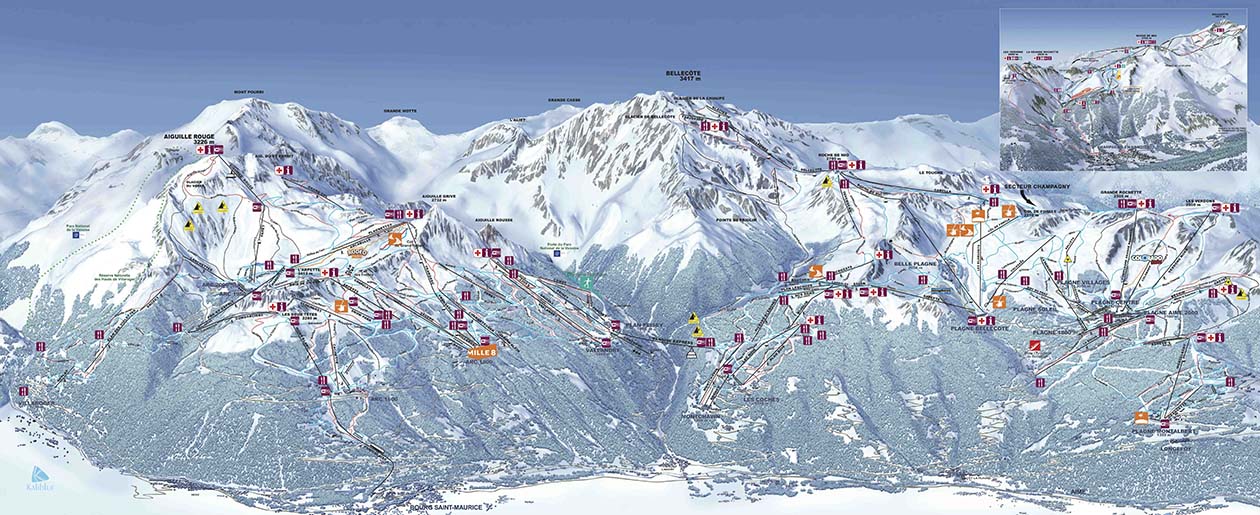 However, the reason why we absolutely love Les Coches is its central location between the vast La Plagne area and the huge Les Arcs area. Les Coches literally sits next to the Vanoise Express and it takes about three ski lifts to get you to an absolute Walhalla of ski slopes of all kinds of degrees (blue, red, black). In one day you can ski in Les Arcs in the morning and hop over to La Plagne in the afternoon or vice versa. It is no lie, with 425 km slopes you will never get tired of this area.
We highly recommend hopping to La Plagne, take the Bellecôte gondola to Roche de Mio which opens opportunities for more challenging skiing both on and off piste. If you want to go even higher you can take the gondola up further to the Bellecôte glacier (3250m) for more high level skiing with exceptional red slopes and two wonderful black "nature" slopes.
Add to that the fact Les Coches is not the "typical" ski station with loud partying après ski events but a rather "we're here for the ski sport" oriented station and you have the best mix of all ingredients for a nice ski holiday.
Les Coches ski map
As stated above, Les Coches has nice ski slopes for all levels, however the Les Coches piste map is embedded in the huge Paradiski map.
Download the Paradiski Piste Map for Season 2015/2016
For season 2016/2017, La Plagne has released a full ski map as PDF document. Download the La Plagne ski map here!